This post is a thank you to the incredibly talented and hard-working promoters who brought Twisterella to Middlesbrough for its 4th outing. I have waxed lyrical about The Kids Are Solid Gold and Pay for the Piano before and will tell anyone who will listen that if they see a gig promoted by either of these it is worth going. When they team up, as with Twisterella, you are in for a wonderful time listening to new discoveries amid old favorites.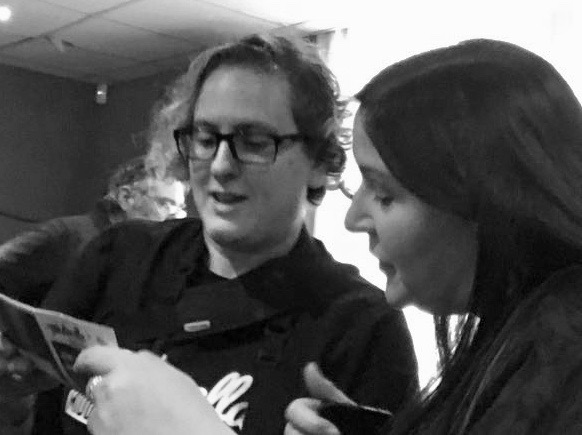 You will run into familiar faces as music lovers of Teesside and well-beyond congregate. You may not know some by actual name, though possibly by Twitter handle, you will, however, give a nod and half-smile as you share the feeling in the moment of how privileged and lucky you are to enjoy great live music, that's been brilliantly curated by lovers of music, in venues so close you can make it to the different stages easily. Bands are able to be in the audience when they're not playing.
Your toughest time, an unwanted lesson in decision-making, you'll need to cope with, is making your choices among the inevitable clashes.
You will choose and then change your mind. Pop-ups announced on the day, the opinions of friends, the need for sustenance, will all influence your ultimate route.
When you just about want to see every band at @TwisterellaFest… @borolou @andytkasg @henrycarden @PhillyCarey can't wait! 🙂 pic.twitter.com/CU9XkbwoKu

— Yaffa Phillips (@yaffa) October 7, 2017
Some of us are part of a spiritual tribe, who connect, feel and heal through music…we try and see as many bands as we can. We might be addicts…of the societally acceptable kind. If these words sound like I'm describing religion or sex – live music can be is just as powerful.
We will travel far for a chance to see that one band…we would go see that other band every week if we could. We welcome those who are just out for a bargain of a day/night out – to see a few bands. We hope to see you at more shows. All of us, together, are supporting the scene we love.
My day at Twisterella is described below…a celebration of talent and the wealth of Middlesbrough venues…your experience may have varied and been just as awesome.
I met up with some friends as Island Club played on the SU stage in the background. The first act of the day for me, easing me in, was the lovely, talented, Durham-based Soham De at TSONE. He's up for Fender's Undiscovered Artist of the Year 2017.
Next up was a few songs by Figmennt back at the SU. I will have to catch them another time.
Next, Desperate Journalist at the Westgarth was great. Intense and female-fronted with shades of The Smiths and Nirvana, and some microphone cord play reminiscent of Kingsley Chapman.
Announced on the day, Belgian Noémie Wolfs, formerly of Hooverphonic, playing with local fave Joe Hammill in her very first UK gig. What a privilege to be in the crowded room that was The Bottled Note on Borough Rd.
Caught some downtime waiting for Cape Cub and Josh Wantie to start, documented by Twisterella photographer extraordinaire Lauren Close.
Teesside's Cape Cub and South Africa's Josh Wantie played an acoustic double-act in Sticky Fingers as a pop-up.
Check out the dancier version of Warm Blood Heart here:
Time for some sustenance at The Southfield.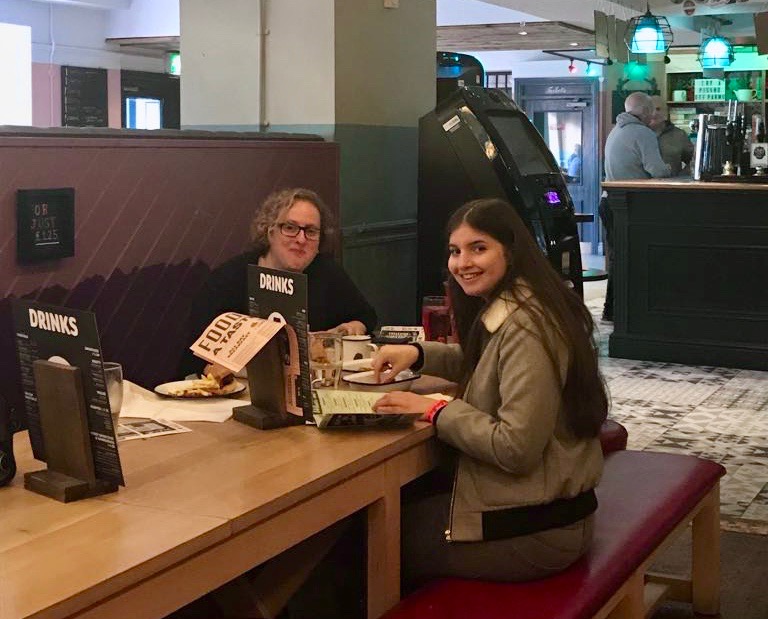 Scottish Pronto Mama made a welcome return to Teesside.
Teesside's Tom Joshua should be a star. Great songwriting combined with a powerful voice and stellar accompanying band of talented folks – There is definitely not enough cello in pop-music.
Tom Joshua is soul food @TwisterellaFest pic.twitter.com/xI0eXSP3OE

— Paul Martin (@paulmartin2012) October 7, 2017
Caught a few songs by Pip Blom, female-lead, fuzzy and surfy. Good stuff.
Low Island was next at the Teesside Uni student union. I really enjoyed most of their set but ducked out a little early for what was next.
The fab and dance-y @lowislandmusic on now at @teessidesu @TwisterellaFest pic.twitter.com/rsmhfDFoCK

— Yaffa Phillips (@yaffa) October 7, 2017
Timed it just right to be right at the front of the Westgarth 2 for Outlya. Brilliant performers of pure pop and singalongs that will make you feel good. In what was a one-in-one out sweaty and beautiful good time. Lead singer Will came out into the crowd for The Light too.
It was back to the SU for Kyko who had the most massive tube for a talk box as part of their gear.
Enjoying @musickyko at @teessidesu for @TwisterellaFest pic.twitter.com/03f8qg1toy

— Yaffa Phillips (@yaffa) October 7, 2017
While many chose to witness the Westgarth 2 get destroyed in a good way by Avalanche Party…
Messy and bloody magnificent set from @avalanche_party at the @Westgarthsocial #twisterellafest #utfb pic.twitter.com/KuSPHhnWVP

— Louise (@borolou) October 7, 2017
I had a kick-ass time with Dream Wife in the SU. Icelandic lead vocals, making the spice girls punk with massive performance presence!
What a finale from @DreamWifeMusic in @teessidesu for @TwisterellaFest pic.twitter.com/8sCtQmBnG7

— Yaffa Phillips (@yaffa) October 7, 2017
Their track is used on the official 2017 Twisterella video.
My photos and videos on Facebook
Roll on 2018!!!!!
All-dayers coming soon Songs from Northern Britain and Sumday